There's a lot of news to catch up on, as I've been neglecting this blog recently.
Some nice reviews of If You Put Out Your Hand:
Caught by the River: 'The weave between word and melody is largely unnoticeable, and as organic as the places many of the poems explore.'
Norman Records: 'frightening and lovely, measure for measure'.
The Active Listener: 'This is hypnotic, essential, occasionally (and pleasingly) disquieting and ultimately affirming work; these pieces are filled with breath and with life.'
Also, reviews of Time Takes Away:
Folk Radio UK: 'This is music that celebrates and is born out of friendship, and as such is a testament to the aesthetic and moral benefits of collaborative creativity. Its very originality makes it difficult to categorise, so I will just say that it is one of the most stunning albums I have heard all year, and one whose power remains long after the songs have faded.'
The Active Listener: 'In short, 'Time Takes Away' is a triumph. It is no leap of the imagination to picture this album being played and revered in twenty year's time in the same manner that we do with our copies of 'Basket Of Light', 'Swaddling Songs' or 'Commoners Crown'. This is a hugely accomplished and truly special recording; trust me, you need this album.'
The Terrascope: 'Dealing with break ups, communities, time passing and new beginnings the second album from folk duo Rusalnaia contains the same breathtaking harmonies and sweet melodies as their first offering, this time, however, the mood is heavier and perhaps darker'
fRoots (398/399 – Aug/Sept 2016): 'a bewitchingly powerful album'
Bliss Aquamarine: 'A superb album, very highly recommended!'
FATEA: 'Time Takes Away is every bit as bewitching as its predecessor, yet it may not yield up its riches quite as readily, for its musical climate is moodier and more opaque for much of the time. The largely exotic-acoustic-based settings of Rusalnaia's debut album have yielded to an altogether heavier primary backing involving frequent use of drumkit (courtesy of guest Mark Wilden) and replete with electric guitar texturings, whose slight air of fuzziness may often require the listener to be more attentive in order to penetrate the fog and reveal the wild, primordial poetic power of the lyrics.'
Oxford Nightshift: 'There are moments of dappled sunlight here, and `Lullaby For a Future Generation' is a gorgeous, sleepy-eyed reverie, but it's those bleaker, more oppressive moments where the pair's witchy magic works best, conjuring a form of timeless folk music a world away from cosy snug bar sessions or the cheery bonhomie of Cropredy, headed instead into shadowy places – hollow hills and dead forests – where fairytales come with a hefty dose of horror. It's another miniature work of wonder from Sharron, a musician we'll always be proud to call one of our own, and whose extensive catalogue you should investigate immediately. Though perhaps not alone.'
Rusalnaia were also featured in the October issue of fRoots: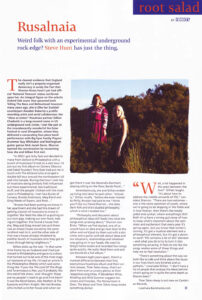 Last month was Folk Horror Revival at the British Museum, which was a good opportunity to catch up with friends I'd met the previous year at A Fiend in the Furrows, as well as meeting new folk and taking part in a panel discussion with organisers Andy Paciorek, Darren Charles and Jim Peters; Shirley Collins and Reece Shearsmith.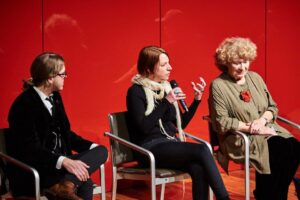 I started recording my next album just over a week ago, and so far we've laid down guitar, bass, drums and keyboards. The vocals and other instruments will be added over the next few weeks, and I'm hoping we'll be mixing before the end of the year.