I've been thinking about the connections between place and sound a lot recently – Pilgrim Chants & Pastoral Trails is an attempt to capture a sense of place in music, and in working on the pieces that make up that album, I found myself doing something halfway between listening and imagining – listening to things that weren't sounds and translating them into music, or – what it felt like I was doing – allowing the music that's latent within the place to come bubbling up.
The process felt surprisingly natural, and it was easy to imagine that the sounds I was creating really were connected with the place. I'm interested in how that can be true in any sense – can there be something about some places that we can tap into in this kind of way? When my friend Allegra Hawksmoor asked if I'd write a piece on this for a magazine she's putting together called 'Dreampunk!' I said "yes", and have been enjoying thinking about the magic of place, places that inspire us or seem like 'portals', and what it is that's special about those kinds of places.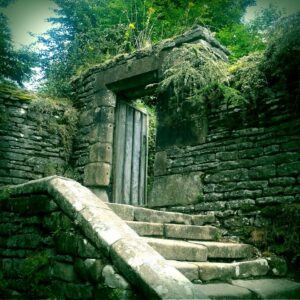 The ideas I'm developing are nothing like the way-out theory explored in the cult 70's TV drama The Stone Tape, that some places act like cosmic tape recorders, recording events or emotions in some way, and then playing them back if something happens to trigger playback. So if you're in a spooky old house and see a ghostly figure walking past, so this theory goes, it's a 'recording' of something that happened there.
The Stone Tape is going to be shown at I Thought I Heard A Sound – an exciting programme of music, art, film and discussion happening as part of this year's Sensoria Festival. I'm looking forward to participating in the panel discussion on 'the strange, psychedelic and visionary elements of folklore and traditional music' together with Jeanette Leach, Alex Neilson and artist Arianne Churchman. There'll be music by Trembling Bells, C Joynes and myself, a performance by Arianne, whose work looks intriguing, and DJ sets too. It's going to be fun!