A journey by train, tube, plane, taxi, ferry and bus got me to the 8th Fanø Free Folk Festival to perform with Helen Tookey and Nick Jonah Davis. Nick and I played a set at 1 am the night we arrived, and the three of us performed 'If You Put Out Your Hand' the following afternoon. You can see clips from both performances in these video roundups of the festival:
It was an intimate festival on a tiny island that felt a little lost in time, with colourful, thatched cottages, empty roads and endless stretches of sand.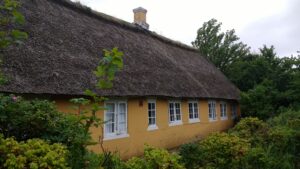 Musical highlights for me were Dead Rat Orchetra's energetic saturday night performance and Kottos with their virtuosic 'folk music from an imaginary land'.